tO mONTEREY bAY fOOD tOURS
We are the first and only walking food tour company in Monterey. We're excited to show you around!
We have a few different tour options, which you can check out here, but we thought we'd take a moment to introduce ourselves and tell you some more about us!
Our most popular tour, the Old Monterey Food Tour, runs Thursday - Sunday at 11:00 a.m. This guided tour showcases popular areas and little known facts about Historic Downtown Monterey. To cap it off, you get to eat — the whole time. If you're of age, you'll also sample some legendary local beer, wine, and cider. If you're not of age, don't worry — you'll also get to go into an ice cream kitchen with a sundae, and we'll have some mango smoothies to hold ourselves over.
If our tour times don't work for you, we're happy to arrange a different time, day, or even a private tour of your own! You can head straight to our private tours page to get started!
In the meantime, there's plenty of information throughout the site to let you know just what to expect. Although we wish we can partner with everyone on the peninsula, unfortunately, we can't. Outside of our jam-packed list of incredible tour partners, we also keep a blog to highlight other worth-visiting restaurants and activities to keep up with on the Monterey Peninsula.
tHE hIDDEN gEMS OF mONTEREY bAY
Whether you're a visitor or a local, we promise to find something just for you! You'll hear stories from some of Monterey's most scandalous days, see some of California's firsts, and taste the only Monterey Jack cheese still produced in Monterey — just to name a few.
Locals consistently discover new favorites and learn more about what's going on right outside their front door. Visitors who take the tour at the beginning of their Monterey trip have the chance to sample a variety of Monterey offerings to help them decide where to return before the end of the trip. It's really a win-win for everybody, don't you think?
Food and Beverages From the Central Coast's Finest
We'll stroll through the most unique eateries and restaurants in the area, some you probably wouldn't even notice without us. Between the different historical elements, we'll sample various olive oils, honeys, cheeses, and salts to whet our appetites for the sit-down restaurants in several different locations to do what we really came here to do — eat. Our list of tour partners is the best way to familiarize yourself with where you might be going and what you might eat. While we have some locations we visit every time, we also change up our tours frequently so our return-guests can still experience something new, too!
If you have any other questions, we might have already answered them on our Frequently Asked Questions Page. If you can't find an answer there, you can always contact us, and we promise to get back to you as quickly as possible. We might be having too much fun on a tour!
Some tips we encourage you to remember:
This is a walking tour, and rain or shine, we walk and dine. Fortunately, this is California, so our rain is pretty relaxed. Unfortunately, we're also on the bay, so sometimes we can't trust our weatherman and the weather can change in a blink. Please check the weather forecast just to be safe, but we encourage people to be prepared for a sudden sprinkle from the sky.

We do our best to accommodate wheelchairs and strollers, but some areas may be harder to enjoy. Please feel free to contact us if you have any concerns about this before booking.

We will be eating enough for an entire meal, and maybe even a little extra. Come hungry, leave full. That's how we do it at the Monterey Bay Food Tours!

The tour lasts about 3 hours and covers just under 2 miles of walking (and eating.) Most of the ground is flat, but there are a few areas with a slight incline.
The Sights and Sounds of the Monterey Bay
We also offer private and custom events! If you're looking for something to do for a bachelor/bachelorette/wedding party, why not celebrate on a night out with us? We can arrange almost anything you want, so don't be shy!
If you're a corporate office seeking team building exercises, we've got you covered in that department, too! We can incorporate trivia, prizes, or anything else you think would fit with your private tour!
Either way, whether a private tour or guided, hanging out with Monterey Bay Food Tours allows for an experience you wouldn't have if you visited these restaurants and historical buildings on your own. How often are you allowed back in the kitchen and shown how things are done after you've stood in the first brick house built in California? Or had pizza personally delivered to you off of a bicycle from a closed shop? With us, you never know when you'll meet a chef, a winemaker, or a local artist, but we're sure it'll be an adventure you'll never forget!
So what are you waiting for?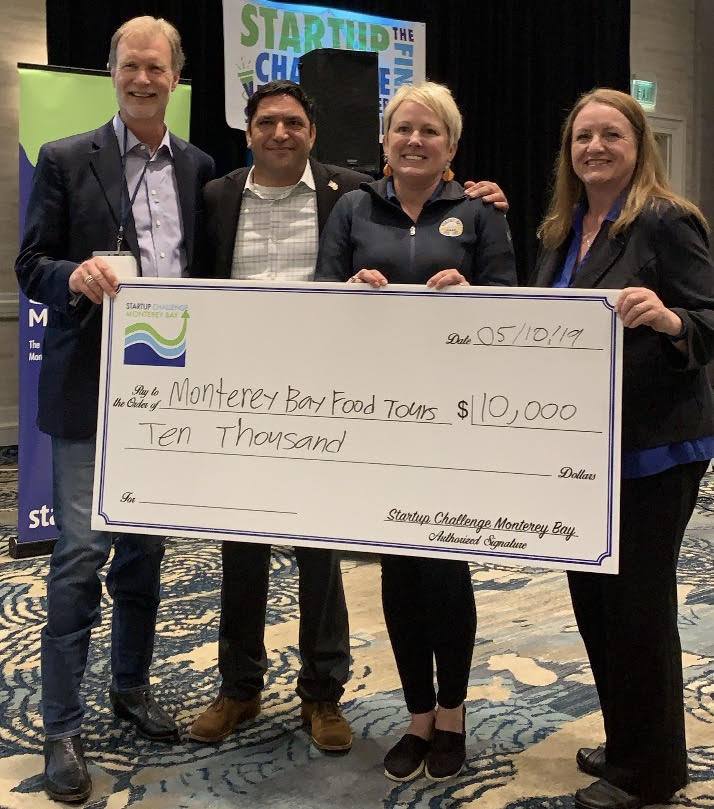 2019 CSUMB Startup Challenge
Connect with us on Instagram!